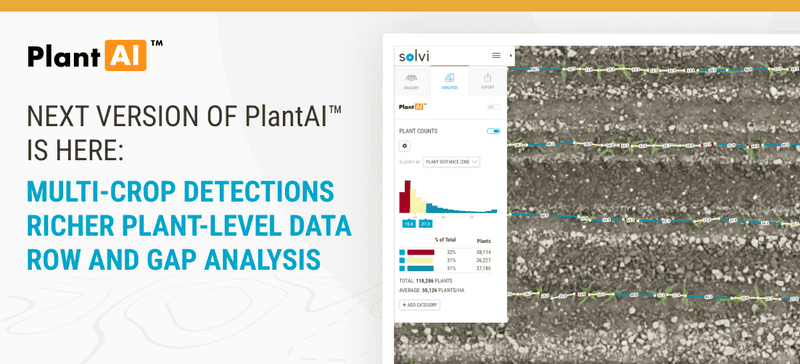 Next Version of PlantAI is here: Multi-Crop Detections, Richer Plant-level Data, Row and Gap Analysis
August 16, 2023
Better measurement leads to better management. Solvi's next generation of plant-level data uses your drone crop data to mine better insights faster. Since 2020, agronomists and researchers have used PlantAI to accurately count and extract plant-level data across thousands of hectares and a broad range of different crops from corn and soybeans to leafy salads, trees, and even weeds!
Based on customer input, we've made it even better. Today, we are excited to announce the release of the PlantAI 2.0 tool featuring more detailed plant-level analytics, support for multiple-crop detections, row and gap analysis and more.
Multi-crop detections
One of the most popular requests we received was the possibility to train separate AI models and run multiple detections on the same map. A common use case would be to first count all plants for early-stage stand counts and then identify weeds for spot spraying. Alternatively, to separately classify multiple crop varieties in a field by size or health, or identify multiple weed species for targeted spot spraying applications. Previously, users would need to reupload all data again in order to detect something else in the imagery. Not anymore.
To support an increasing range of PlantAI applications, we have made it a separate tool that identifies objects like plants or weeds and can make multiple detections within the same field. Once detections are generated, users can apply Plant Counts to classify plants by any extracted metric or use Zonal Statistics to aggregate plant-level data on a plot-by-plot basis.
And it only gets better. In the future, PlantAI outputs can be integrated with other tools, like for example our Prescription tool to support targeted spot spraying applications.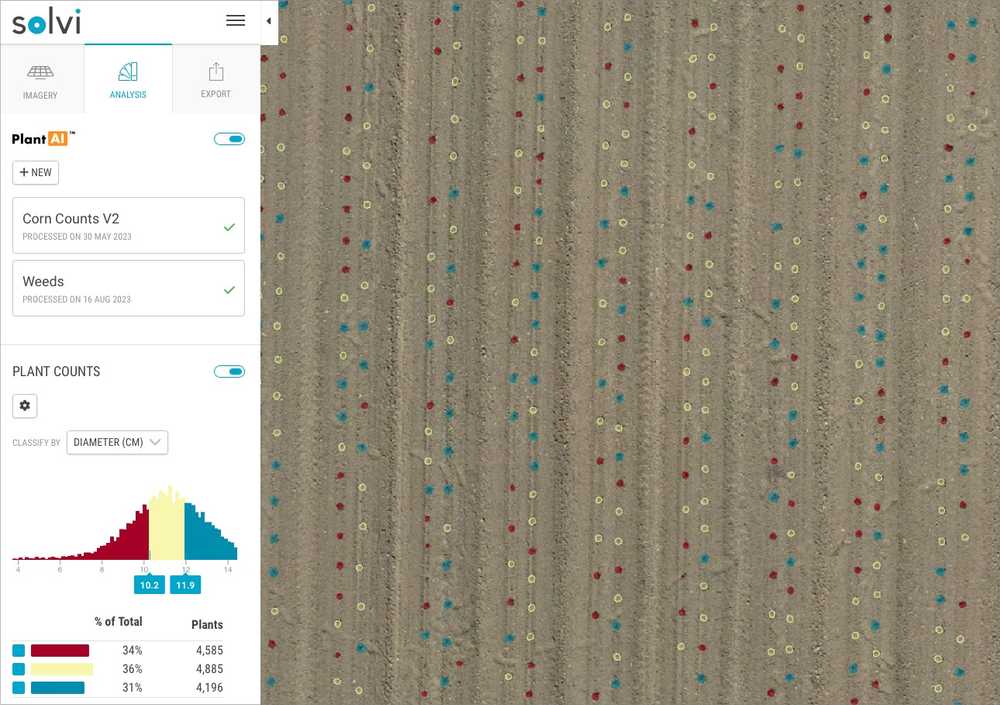 Richer plant-level data
Another highly requested feature for PlantAI was to extract more metrics for each plant. Now, vegetation indices like NDRE, Green Chlorophyll Index, and many others, previously only available for field-level analysis, can be extracted for each individual plant.
Soon, we'll also add other metrics like height (useful for trees) and length (useful for crops with non-round shapes like some varieties of watermelons and pumpkins, carrots, etc.)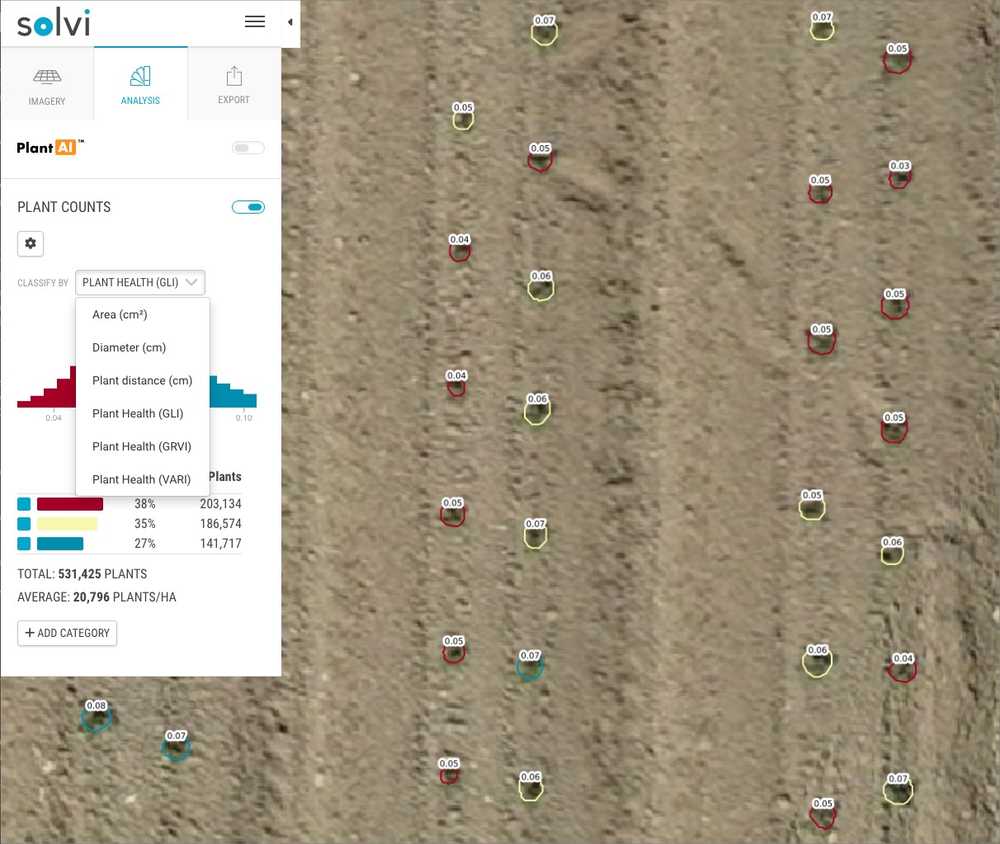 Row and gap analysis
One of the most important metrics when it comes to assessing crop establishment in corn, soybeans, and other row crops is gaps between the plants. Now users can quickly spot abnormal plant gaps and quantify their number and length.
Users mark the direction of the rows and PlantAI identifies all field rows and calculates the distance between all plants. Based on normal plant spacing, users can quickly identify where and how many large gaps between the plants are.
Gap data is also integrated with the Zonal Statistics tool allowing researchers to aggregate and compare this new data point across field trial plots.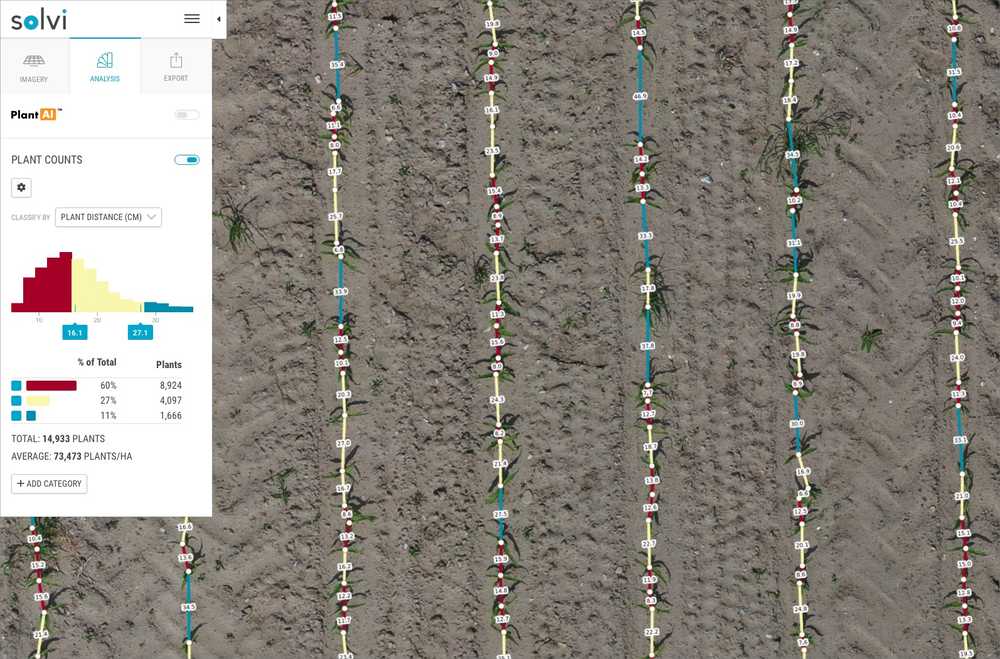 Solvi's Two Plant Counting Options
Depending on your crop and data needs, exactly as before, Solvi offers two levels of Plant Counts detail.
Basic Counts
A simple full-field inventory of every plant in your field, now also with optional row and gap analysis. Ideal for large acreage crops like corn, soybeans, or sunflowers.
Counts with Plant-level Data
Our most in-depth crop counting and evaluation analytics with plant-level data for every plant, in every field. This new, high-resolution field data is especially valuable for specialty crops like lettuce, broccoli, strawberries, tomatoes, and others, where individual plant size and health is of interest.
With this unparalleled level of plant detail, Solvi's Plant Counts may become your new best scouting assistant.
No matter which Plant Count option suits your operation, all of Solvi's Plant Counts provide:
Highly accurate counts. Our dense field sampling method produces drone-based plant counts that are up to 98% accurate compared to traditional manual counts.
Crop-specific AI training. Based on Solvi's deep learning algorithms that were trained on thousands of agricultural datasets for enhanced accuracy and reliability, each count is fine-tuned to your specific crop and field.
The next iteration of PlantAI provides growers, researchers, and crop consultants with even more powerful, yet easy-to-use tools for full-field plant count assessments", says Igor Tihonov, founder of Solvi. "With our unique workflow, everyone can generate accurate plant counts and plant-level data often within an hour.
Precision Agriculture Simplified
Farm profitability demands management efficiency. Pinpoint-accurate data guides your precision decisions for more agile and responsive in-season crop management.
Solvi streamlines drone analytics for actionable insights.
If you're ready to upgrade to precision crop management and better understand your crops' performance, sign up for a free trial and test Plant Counts on your fields, or contact us for a demonstration.
---