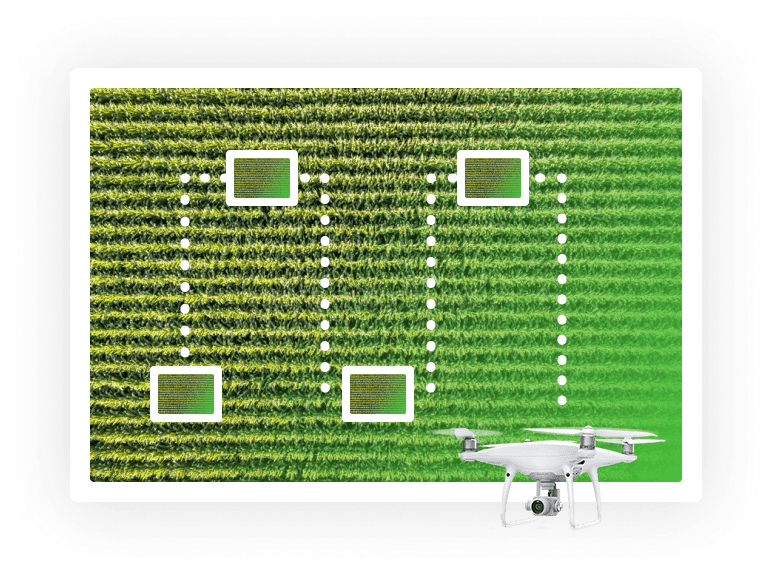 Maps created from drone imagery are efficient tools that provide a birds-eye view of agriculture fields, revealing where problem areas might exist. But only being in the field and ground-truthing will tell the full story and the reason behind variations in plant health maps. Scouting the field on foot is a time-consuming task though and there is only so much one can scout by feet, resulting in large areas being unvisited and important pieces of information being potentially missed.
To make scouting more efficient and less physically demanding, we are introducing Solvi Scout — a new way for growers to monitor and get advice on crops remotely.
Leaf-level data in minutes
Drones are a perfect tool to reach distant and inaccessible parts of the field quickly. Either programmed to navigate through a set of waypoints at a certain altitude or navigated manually with a remote controller, a drone equipped with a camera becomes growers extended eye in the field.
Once collected, tens or hundreds of images are stored on a memory card onboard the drone. While it may be valuable to just look at the images one-by-one, it gives very little context on where in the field images were taken and makes it challenging to share them with others. This is where Solvi Scout comes in. Once uploaded to Solvi, all images are visualized on a map, giving a good understanding of which parts of the field they represent.
Every image can be inspected more closely by zooming in to leaf level details. While inspecting images, it may sometimes be helpful to make notes about different findings so that they can later be discussed with an agronomist. The new annotation tool provides this functionality — giving the user the ability to quickly highlight an area of interest on an image, assign it a distinct color, write a note and save it. Notes and annotations are now attached to the image and can be viewed on any device by anyone with whom you choose to share your data.
Sharing and collaboration
Viewing imagery and making notes for yourself is good, but the real value of having scouting data available in the cloud is that it's easy to share and collaborate on with others. Using the existing sharing capability in Solvi, it is possible to provide access to scouting datasets to anyone via a web link, without requiring them to have a Solvi account. If you are a farmer and looking to get advice from your agronomist, you can start having a conversation around scouting data by easily writing comments on any area of interest in the image.
Available to everyone for free
In these challenging times of social distancing and when in-person meetings are often not an option, it is essential to have tools available that allow for communication and collaboration around field data remotely. The new Solvi Scout tool was specifically designed to enable both of these. Given the circumstances, we would like to make our contribution accessible to everyone working in agriculture by providing the new Solvi Scout tool free of charge for the next 3 months. We hope farmers and agronomists will find it useful in their work and that it will help drive better decisions that ultimately result in better crops and higher yields.
Interested to learn more about Solvi Scout? Read more and sign up to give it a try!