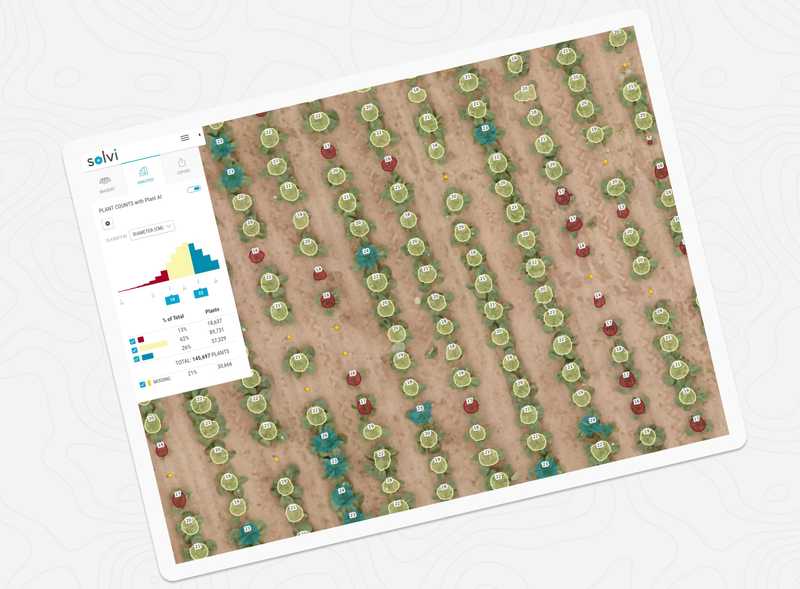 The Agronomist's Time Saver: Drone Plant Counts
October 13, 2022
Plant counts are an essential part of precision agriculture's expanding dataset. But the traditional error-prone row plant estimates are an unreliable relic. Transform small-scale sampling into an accurate full-field inventory with drone plant counts.
Do you need plant-level metrics for yield estimation, emergence patterns for variety selection – or simply an accurate full-field count? Aerial plant counts identify skips in rows, nutrient deficiencies and optimal harvest timing for efficient crop research and profitable farm management.
Let your data do the work. Solvi's Plant Counts lets you stop estimating and start precisely analyzing plant-level crop performance.
How Do Drone-Based Plant Counts Work?
Growers used to project plant counts from a few row feet. But representative sampling can distort agricultural data. Solvi's Plant Counts tool uses Plant AI™, our artificial intelligence system to accurately identify, count, and classify acres of plant shapes from drone images in minutes.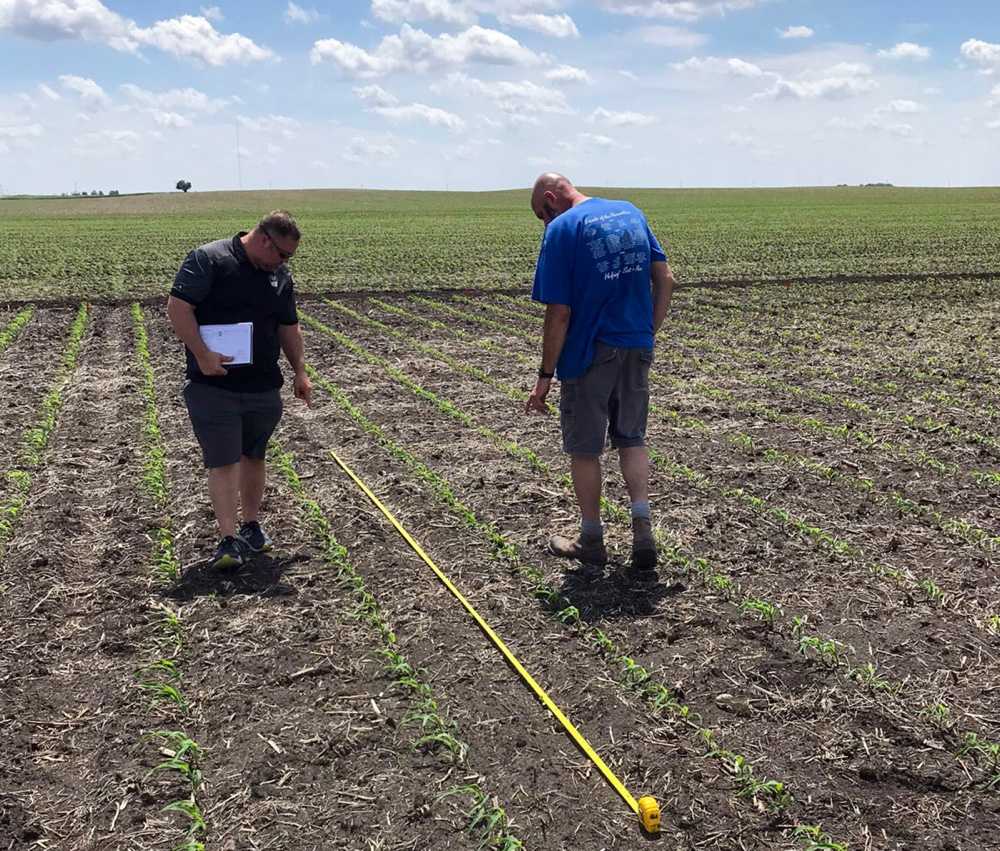 The technology behind the scenes is complex, but the process is a simple click-and-drag system that lets you train the AI to identify your crops or areas of interest. Now you can outsource the drudgery of hand counting and trade row estimates for full-field accuracy. And it works for almost any crop.
Ready for precise plant counts and plant-level analytics? Start by uploading and stitching your drone imagery in Solvi's one-stop platform. Then, toggle on the Plant Counts tool and put AI technology to work for you.
Two Quick Ways To Count Plants With Solvi
Solvi offers two time-saving ways to generate plant counts and detailed plant-level data:
User-generated (immediate!)
Done-for-you (under 24 hours)
Both options return the same detailed plant-level data. But if you're in a hurry or want to experiment with data visualization options, try Solvi's one-of-a-kind user-generated plant counts. Training the AI system yourself lets you control the plant identification process for accurate output in four simple steps.
How To Count Plants Fast With Solvi's Plant AI
Training Solvi's Plant AI yourself lets you define what to count – and what to exclude for powerful field insights.
Here's how it works:
Upload and process drone images into a stitched field map
Click 10 or more example plants to show AI what to analyze
Preview initial results (at no charge!)
Add more plant examples to refine AI accuracy if needed
Receive full-field counts and plant-level analytics in minutes
Remember:
You train the algorithm on what to count. Selecting weeds (ignoring desirable plants) provides a whole different perspective - and prescriptive view.
Within reason, more plant examples better train the AI system.

Choose examples with variability like shadows on plants, different size plants, different colored leaves, etc.
Incorporate a few field anomalies without selecting them to show the AI what to ignore like rocks, tire tracks, shadows, weeds between rows, etc.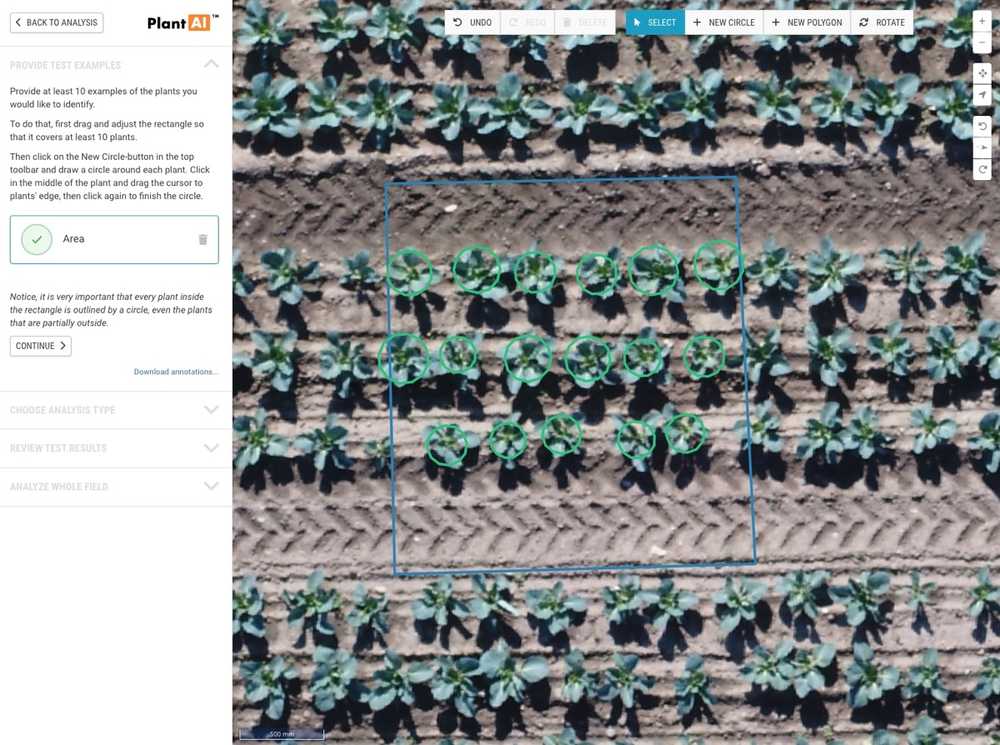 Done-For-You Plant Counts
If you're short on computer time or process a high volume of field images, Solvi also offers done-for-you plant counts.
Simply upload your field imagery, outline area of interest and request plant counts. Our experienced support team will do all the necessary work training the AI and send you an email notification when the counts are ready. Results are usually available in less than 24 hours. Acres of field data? Done.
What Crop Metrics Does Solvi's Plant Counts Tool Provide?
No matter who trains Solvi's plant counting algorithm (you or us), the insightful outputs are the same:
Basic Plant Counts
This option provides:
a total number of plants in the field
a dot mapped for every counted plant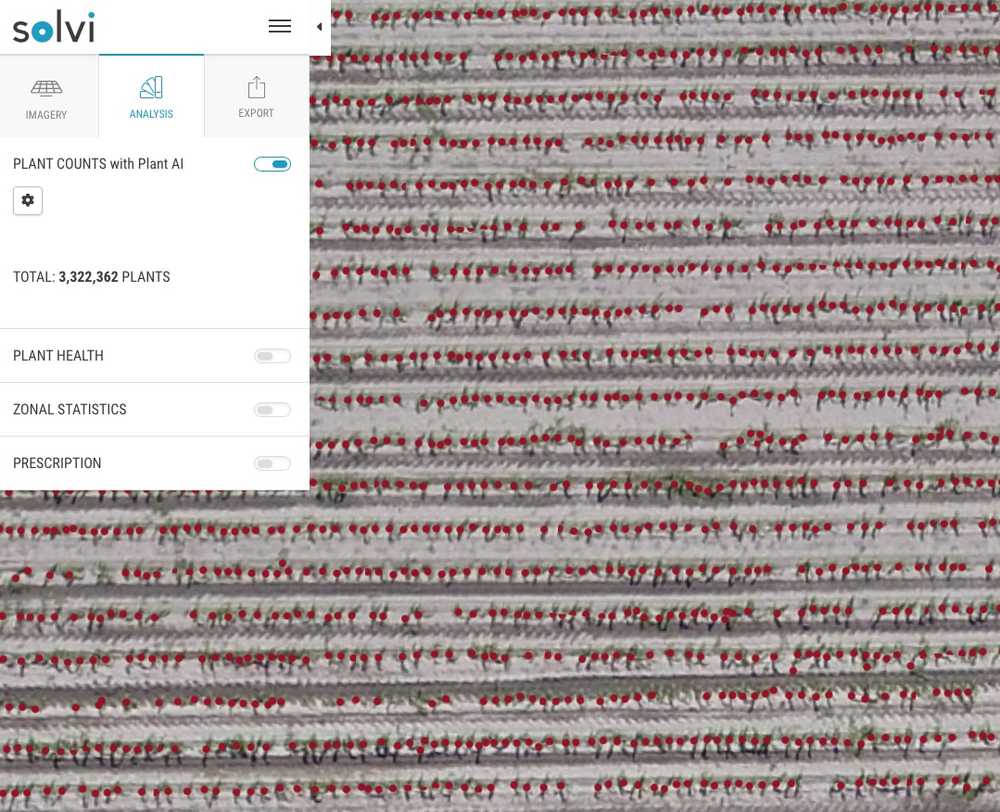 Plant-Level Data
In addition to basic plant counts, you'll uncover a wealth of additional plant-level crop data.
Start by choosing from three criteria to count and classify plants: plant diameter, plant area, or plant health. The AI visually maps and color-codes each plant value into three baseline classifications (low, medium, high). A color-coded histogram displays the class distribution and counts from the entire field.
Experiment and investigate the field by adjusting plant classifications (up to 10) or selecting smaller field areas of interest. Solvi automatically reclassifies in real time as you test how best to visualize the data.
For each field you'll receive:
Total plants and percent of plants per class
Color-coded distribution of classifications
Class-colored plant shapes overlaid on your field map. And options to:

View raw data values on the map
Color or clear the outline fill of each plant polygon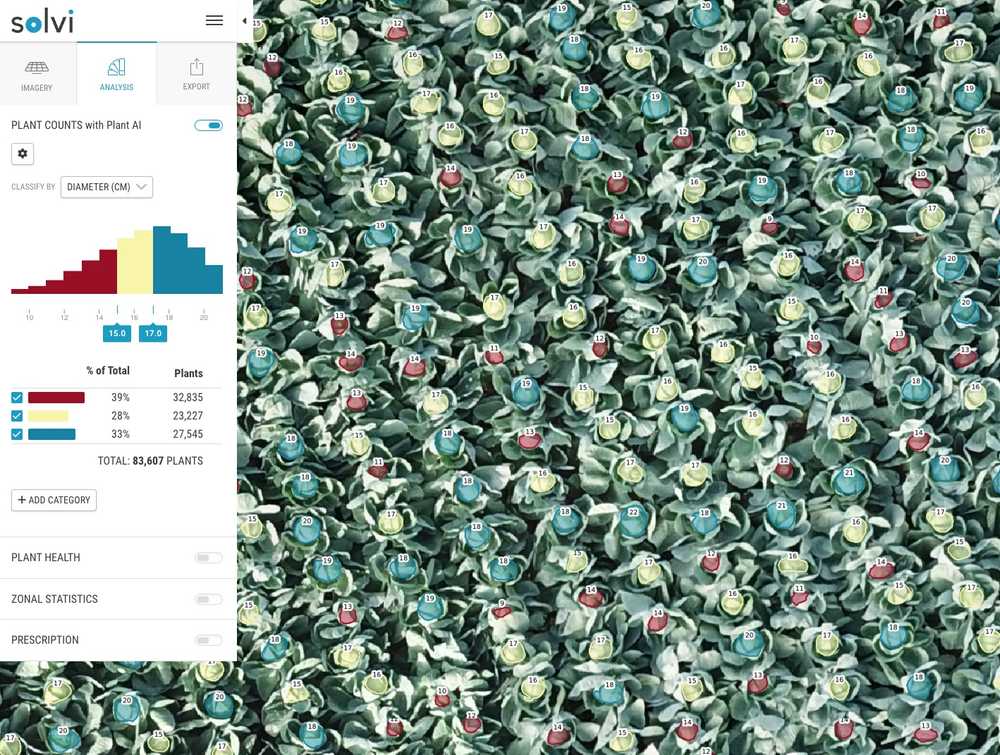 Evaluate Plant Diameter or Area
Choose the plant diameter or area criteria and Solvi's AI calculates plant size based on your training. Tailor your sample plant boundaries to your unique inquiries.
For example, if a cabbage grower circles only the plant head (not the entire leaf structure), the tool will count and size only the harvestable head. Great for yield predictions!
Assess and Address Plant Health
Solvi also provides the vegetation index for each plant, indicating its relative health. RGB images use the VARI index. Multispectral imagery use NDVI.
Experimenting with this dataset allows you to identify and classify healthy, nutrient-deficient, and dead plants. Export results for precision weed or nutrient management via prescriptive application (SHP) files.
Plant Counts in Microplots
Drone-based plant counts are useful not only in production fields but also in agricultural field trials. World's top vegetable breeding companies like Rijk Zwaan are using drone-based plant counts to more efficiently assess their trial plots and quickly compare plant traits across hundreds of breeding lines around the world.
How does it work?
Once a field is counted, you can investigate plant-level data (including counts, plant density, and plant health) at the plot level with Solvi's Zonal Statistics tool. Number of plants in each plot? Plant density per acre or hectare? Average diameter for each plot? All those metrics can easily be extracted with a click of a button. Once metrics are calculated you can easily output and compare plot data for characterizing varieties or evaluating agronomic treatments.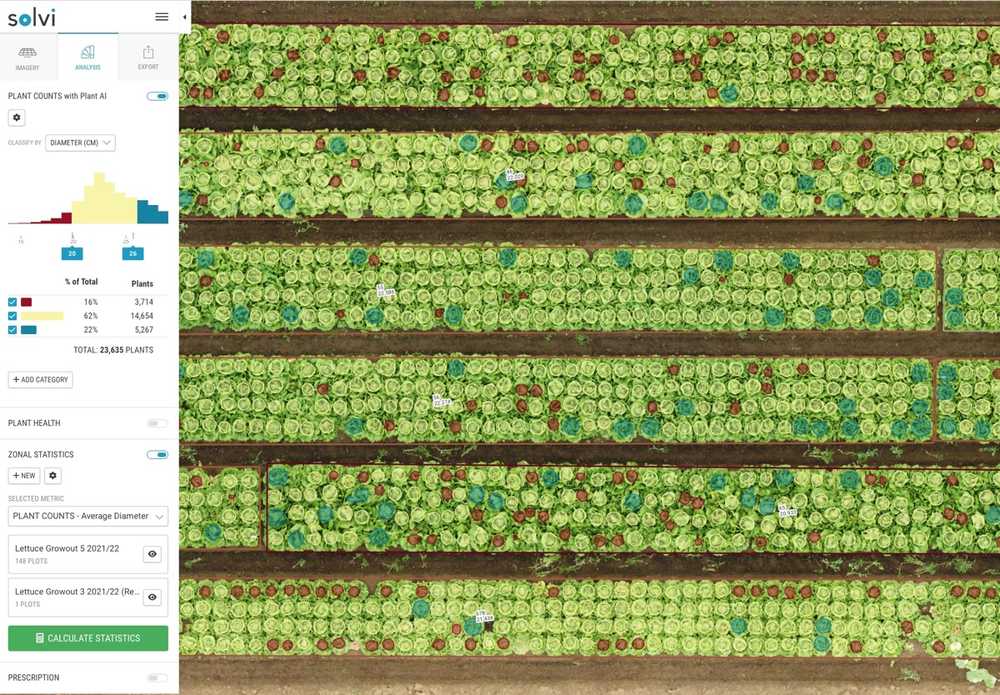 Solvi's Plant Counts Reporting
With such valuable data in hand, you probably want to act on or share it. Solvi allows you to output Plant Counts data in two formats.
Printable PDF
Great information needs to be shared! Start by selecting the entire field or a sub-area for the report. Then choose which (or all!) pages to include in your pdf:
Orthomosaic (stitched visual field map)

Metadata including the field name, flight date, crop, altitude, area, and image resolution
Includes elevation and annotations (if added)

Plant Counts

Statistics of total plants and classification metric
Visual map with a color-coded legend of classifications and counts

Plant Health
Zonal Statistics

Any subplots selected for investigation
Return to the settings menu to adapt the area or pages to be displayed. Then, download or print the report for distribution, presentation or record-keeping.
Agronomist and Enterprise level users can personalize reports with your company's logo for polished, turn-key client reports.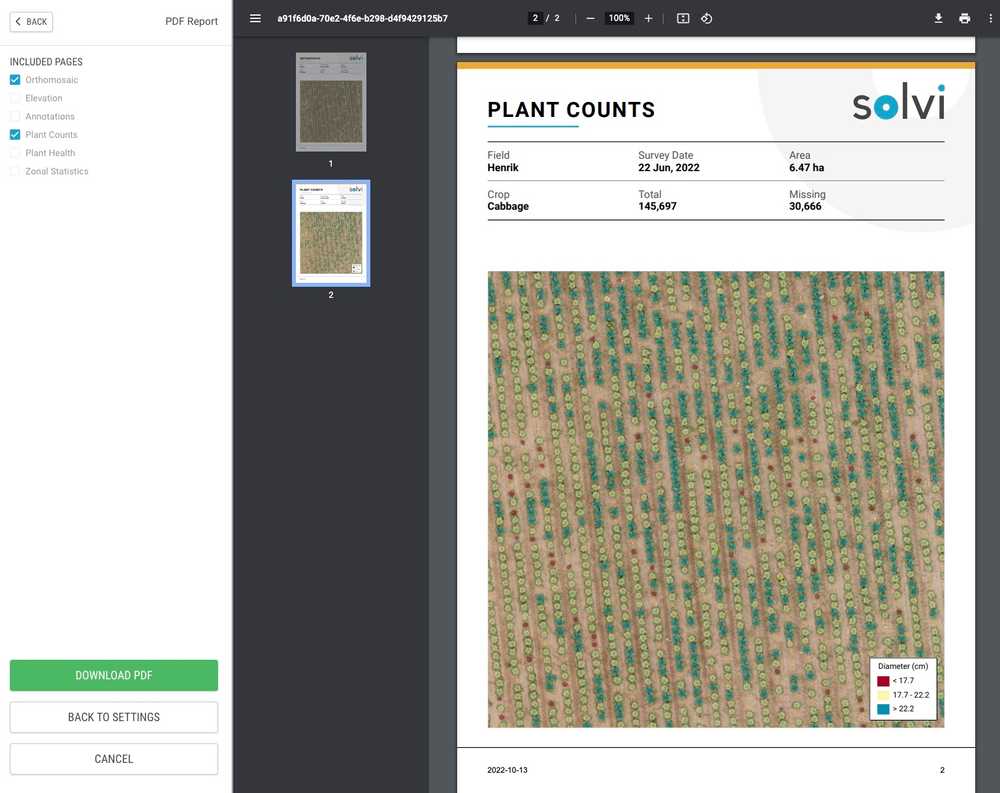 Shape Files (SHP)
Want to dive deeper? To access raw data for further analytics or for prescriptive application files, Solvi also offers plant count data in a downloadable SHP file. (Note that prescriptive files require geolocation accuracy from an RTK drone or added ground control points.)
What Crops Does Solvi's Plant Counts Work For?
(Almost) all of them. Most crops fall into one of three camps: small size, specialty crops, or permanent large crops like trees. Solvi counts and analyzes them all – even non-crops like weeds. Get accurate plant counts and plant-level data for:
Grains and broadacre crops:
Specialty vegetable crops:

Cabbage
Broccoli and other brassicas
Vines like pumpkins and melons

Trees:
Weeds
Expedite Plant Counting With Solvi
Solvi simplifies field inventory with full-field plant counts with unparalleled accuracy and speed. With our one-stop image stitching and plant-level analytics, agricultural consultants and researchers can eliminate the vagaries of plant count estimates and rely on precision data.
Leading breeding and research organizations including Rijk Zwaan, Agrovista, Nordic Beet Research, the Swedish University of Agricultural Sciences and others use Solvi's image-stitching and analytics tools to improve their data collection efficiency and accuracy.
Simplify precision agriculture. Try counting your entire field with Solvi for free today.
---